Jar Recycle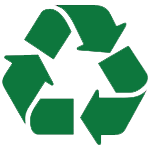 We strive to be environmentally friendly with our natural ingredients, glassware, and packaging. We use recycled or reclaimed materials in both our glassware and in our packaging. All packaging and shipping boxes are completely recyclable.
Did you know that glass is a 100% recyclable material?   It can be recycled easily without loss in quality or purity. Mallory's glass vessels are made from 100% recycle glassware. We ask you to keep up the cycle reuse or recycle your glass vessel.
Glass Vessel Recycling
Credit on your next candle
We ask that you return your glass vessels to one of our Mallory Candle Co Locations and you will receive a discount on your next candle purchase.
Simply return your empty clean candle vessel and you will receive a $1 credit on your purchase of a jar candle. Purchase of the new candle must be made at the time of your returned glass vessel.
What do we do with the returned glass jar?
We clean it and prepare it for use in another Mallory's Candle. A prime example of Re-Use!  
A few simple reasons...
It's good for the environment.
It's the right thing to do
And, you get a credit towards your next candle purchase!
Cleaning your soy candle is very easy since natural soy is a soft substance.



Don't put it in the Freezer!




Use a dull knife or such to remove any left-over soy in the jar.




Remove the small metal circle (used for the wick) at the bottom of the jar.




Wipe out with a paper towel if necessary.




Then, wash your jar or put it in the dishwasher. 
What if I can't return my glass vessel?
If you can't return your vessel, here's some ideas…
pens & pencils
spare change
q-tips
toothpaste & toothbrush
pet treats (although my dog would want a bigger container)